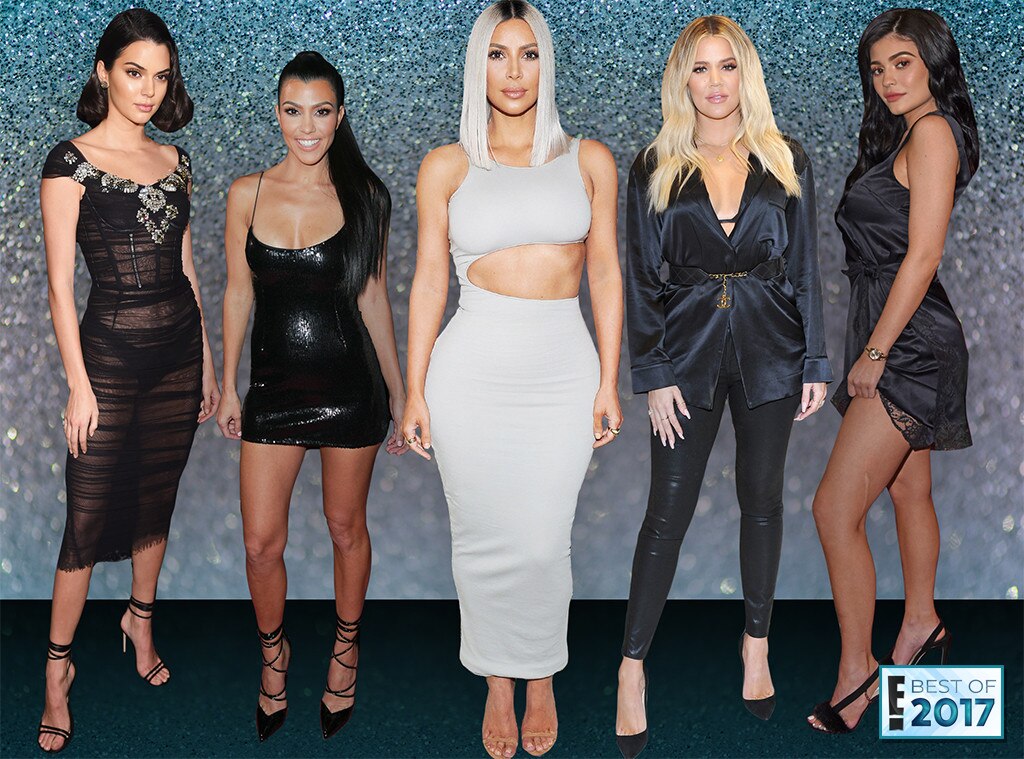 The Kardashians might be the only family in pop culture in which, at the close of every year, a person could remark that it was "their craziest year yet" and that statement would be not hyperbole but cold, hard fact. They're a group of people who attract—and, yes, relish—in dramatic plot points and so far the Universe has continued to deliver for them.

If one year sees an Earth-shattering breakup, the following year will see two. If one year sees a pregnancy, the following year will see three.

And so, it's with confidence that we can say that 2017 was the Kardashian's craziest year yet. But unlike 2016, which was dubbed so because of an unspeakable crime and its repercussions, 2017 holds the moniker because of what it means for the future.
To wit: In a matter of 12 months the family that we had once known looks completely different. Starting with Blac Chyna and Rob, there have been romantic reshufflings all over the place. Their once-whirlwind relationship is over and they're now working out what it means to co-parent Dream while having almost no contact.

After a tumultuous period of on-again, off-again fighting, Chyna and Rob reached an undisclosed custody agreement this September and Chyna decided not to pursue the domestic violence case against Rob. He celebrated his daughter's birthday with all of the Kardashians and joined his sisters and mother at Kylie's house for the family Thanksgiving, seemingly using this breakup as an opportunity to reconnect with the relatives that he drifted from during the couple's initial courtship.
Kourtney and Scott are over too, and while their breakup hasn't been marked by quite as many public outbursts as Rob and Chyna's, it seems to be just as permanent. For the first time since they began dating in 2006 they're learning to lead fully separate lives. They spent a good portion of 2017 testing the boundaries of what that would mean: When it felt right to be around each other and when it was best to tag-team. (It seems the biggest takeaways from their period were definitely tag-team Cannes.)

Kourtney found (what appears to be) love with model Younes Bendjima, getting more serious by the day. He has gone from a party plus-one to reportedly spending time with Kourtney's kids, and we wouldn't be surprised to see him pop up at the Kardashian Christmas party either.

Scott, meanwhile, has found…something. He took 2017 to play the field and now that he's settled on Sofia Richie he seems to be turning up the heat. They've taken…whatever this is…all over the globe, from France and Italy to Mexico and Miami. It's easy to assume that this isn't much more than a fling—and maybe that's true, but their inseparability only proves the point that it's nearly impossible for Kourtney and Scott to ever go back to the way they were.
Disick was recently excluded from Khloe's birthday party and he held his own birthday celebrations for Mason separate from the rest of the family. The children will ensure that Scott is never fully estranged from the Kardashians but fans can expect to see him on Keeping Up less and less.

But Kourtney and Rob weren't the only members of the family to experience breakups that rocked the foundation of the clan as we came to know them. In a matter of months Kylie went from the latest "off" period of her occasionally tumultuous relationship with Tyga to a full-blown serious relationship with Travis Scott. They were first rumored to be dating this spring when they were spotted getting cozy during several of his tour stops and by June they were getting matching butterfly tattoos.

She's rumored to be the third sister expecting a child in the coming months, which would not only mean that she's now tied to Travis (and over Tyga) for life, but living out her often-spoken about dream to one day retreat from public life and raise a family. She seems to be expanding on the first part of that goal for the time being, choosing to stay relatively out of the spotlight and avoiding her previous routine of hitting all of LA's biggest hotspots. Instead she's been hanging out at home, hosting Thanksgiving dinner for the entire family and reportedly attending her own baby shower in November.
For Khloe's part, she's still fully entrenched in her Cleveland life and by all accounts by the end of this year she'll be anything but a fixture in Los Angeles. The reports of her pregnancy point to a permanent shift into family-building with her partner Tristan Thompson. For the second year in a row she spent Thanksgiving away from her sisters, instead opting to throw an elaborate dinner for Thompson at their shared mansion.

She's continued to carve out her own space away from the rest—she was often overshadowed by her older sisters, whether it was Kim's gargantuan fame or Kourtney's ever-expanding brood, but now it seems she has finally found peace, stability and true happiness. By all accounts, both source and social media, Khloe is head-over-heels in love with Tristan and is looking to make things permanent. Whether that means an engagement is pending (Christmas present perhaps?) or simply that a new baby will round out their little family remains to be seen, but it's clear that the old Khloe is firmly in the past.
Kim and Kanye had perhaps the most dramatic year out of all the Kardashians. 2017 began with Kanye's recovering from his hospitalization and they spent most of the year focusing on family and being just about as private as is possible for a couple like them. Sure, they didn't hide out, but Kanye West missed the Met Ball—that's big. They took vacations to the Bahamas and Japan and stayed mostly quiet even throughout the release of Taylor Swift 's many songs about Receiptgate.

And most importantly they made the decision to expand their family in their own way.

The two have been through hell and back, both personally and in their attempts to have a to have a third child, so their move to hire a gestational surrogate feels like both the closing of a chapter and the start of a new one. They're expecting a baby girl (name still undecided or at least undisclosed) and just recently held a baby shower to celebrate the pending arrival.
For all of the ups, 2017 also brought some tragedies. After a 2016 that was marked by rallying around Caitlyn Jenner in her transition, this past year has seen her completely estranged from her daughters and ex-wife. Jenner released her memoir earlier this year and the accusations she made towards Kris caused plenty of hurt feelings and eventually a very large—and possibly permanent—rift. Things have become very strained with her two youngest daughters and this fall she admitted that she hadn't spoken to Kim in "at least a year."

But family drama is nothing new to this group of women (and Rob…sorry, Rob). The family, at least as we know them today, was born out of tragedy. The Kardashian machine came to be because of Keeping Up With the Kardashians and at the time the show premiered—sex tapes aside—their biggest claim to fame was their tie to the murder of Nicole Brown Simpson and the trial of O.J. Simpson. The show has sustained success for so many years in part because of their uncanny ability to face down family drama and catastrophes with a laugh and a very good contour.

Reinvention is as natural to the Kardashians as waking up to a glam squad and a tragedy is just another opportunity to do so. As they enter into 2018 they seem to be reclaiming the narrative and looking to get back to a place of control. They're recently resigned a contract with this network for an additional five years of television, worth $150 million to be split among the family however Kris sees fit (naturally).
They're even bringing back the age-old holiday card tradition after a 2015 edition that featured only the children and a 2016 edition that didn't exist at all. They're making it bigger than ever this year, too: Kim is teasing a little every day between now and Christmas Day, giving fans the 25 Days of Kardashians they never knew they needed.

Posing for a family photo won't erase the personal dramas they've faced but it will set the tone—whatever tone they want—as they enter a new year. And if reality television has taught us anything, it's that there are very few things that professional airbrushing won't solve.